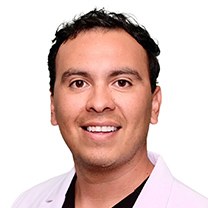 Champagne Family Dentistry is thrilled to announce the addition of Dr. Jairo Barrera to their esteemed team of dental professionals. Dr. Barrera is a dedicated and compassionate bilingual dentist, fluent in both English and Spanish, who is committed to delivering the highest quality of dental care to his patients. With his arrival, Champagne Family Dentistry reaffirms its commitment to ensuring language is never a barrier to accessing quality oral healthcare.
Dr. Barerra's patient-centered approach places a strong emphasis on providing exceptional care while prioritizing patient comfort. With a keen eye for detail and a genuine passion for dentistry, he strives to make every visit a positive and stress-free experience for his patients.
As a Reno native, Dr. Barrera is elated to return home and serve his community at Champagne Family Dentistry. He earned his Doctor of Dental Medicine degree from the prestigious University of Nevada, Las Vegas, where he honed his skills and knowledge in various dental disciplines. Dr. Barrera's commitment to professional growth is exemplified by his active membership in the American Dental Association and the American Academy of Cosmetic Dentistry.
Beyond his professional pursuits, Dr. Barrera takes full advantage of the abundant outdoor activities Northern Nevada has to offer. He enjoys staying active and cherishing quality time with his loved ones, further reflecting his dedication to a healthy and balanced lifestyle.
"We are delighted to welcome Dr. Jairo Barrera to our dental team," said Dr. Jason Champagne. "His exceptional skills, compassionate nature, and bilingual capabilities make him an invaluable asset to our practice. Dr. Barrera's commitment to patient care aligns perfectly with our mission to provide outstanding dental services to the Sparks community."
Dr. Barrera's addition to the team further solidifies Champagne Family Dentistry's position as a leading provider of comprehensive and patient-centric dental care in the Sparks area. Patients can expect the same exceptional service and commitment to excellence that the practice has upheld throughout the years.