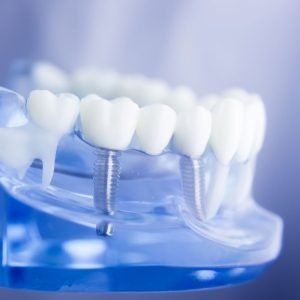 If your dentist has told you that you need to have a tooth replaced or restored, your next choice will be whether to receive dental crowns or implants. Both are dental prostheses designed to look and feel like your natural teeth and give you your full smile back while enabling proper chewing and/or speaking. Both dental implants and crowns also have pros and cons in terms of installation process and final product longevity, and it's important you know both before deciding.
What Is A Dental Crown?
Dental crowns are sometimes referred to as "caps" because, instead of replacing a tooth, they simply cover the visible area of a tooth—the root structure and inner part of the tooth remain in place. Caps are used to restore an existing tooth that has been cracked or decayed, and offer a long-term, relatively inexpensive fix to a damaged tooth. The resulting crown will also be indistinguishable from your natural teeth.
Dental crowns are put in place by permanently filing down the damaged tooth to make room for the cap, which is fitted over the remaining root structure and held in place with a high-strength cement. Types of dental crowns include durable porcelain, ceramic, or a longer-lasting material called PFM (Porcelain Fused to Metal).
Dental crowns are durable, cost effective, and can save your existing tooth. However, some cons to dental crowns may include some sensitivity in the tooth for a few weeks after application and the potential for the cement holding the crowns in place to weaken over time—meaning crowns may ultimately need to be replaced one day.
What Are Dental Implants?
Dental implants are custom-made prosthesis that is typically composed of a titanium anchor that is surgically inserted into the jaw and used to hold one or several synthetic teeth meant to replace a patient's natural ones. The benefits of dental implants are a long-lasting solution to teeth that have been lost or damaged beyond repair and they replace lost bite function and aesthetics permanently.
Dental Crowns require at least two surgeries to fully install with at least a month of healing time between. In the first surgery, the dentist makes a small incision in the gum, exposing the jawbone beneath. They then use a bone drill to make a small hole in the bone, into which the titanium anchor is inserted, and the gum tissue is stitched in place around a protruding metal post.
Over the coming weeks, the jawbone will heal around and fuse with the titanium insert. This creates a strong support system for the implant so that it can handle your normal bite force. After the insert is in place, the patient must return to have the custom dental prosthesis firmly attached to the titanium post. Some types of implants do not need to be inserted by a dentist and can be inserted and removed at will by the patient. However, these are subject to loss and damage more than a permanent implant.
Getting a dental implant is technically considered major surgery, and patients should consult their dentist and general practitioner to ensure they are healthy enough to undergo a surgical operation. Dental implants also typically tend to cost more and are more difficult to replace when lost or damaged. Dental implants are generally the only option for reconstruction if a tooth has been removed at the root or is too damaged to otherwise repair. The professionals at Champagne Family Dentistry can tell you more about the basics of implant dentistry during an appointment.
How To Make A Final Decision Between A Crown Versus Implant
It's important to talk to your dentist about which major restorative dental options are best for your health, budget, and goals for your treatment before deciding between a crown and an implant. In general, crowns are used for more cosmetic reasons as there must be some tooth structure in place to support the crown already. However, crowns can also be used to prevent infection or encourage proper nutrition by restoring proper chewing function. There may be extenuating circumstances that favor one method over the other, and usually only a dentist can identify these for you.
However, you can be prepared before your appointment by considering things like cost: Will my insurance cover the cost of my procedure? Am I willing to spend money on a less expensive treatment that may need to be repeated in several years? Or would I rather pay more for a longer-lasting solution?
Also consider things like your goals for treatment. Decide what your primary concern is—whether it's aesthetics, function, or price point—and be ready to ask your dentist what he or she would recommend knowing your priorities.
Both dental crowns and implants are proven, effective methods of treating a variety of dental issues, and finding the right solution for your specific symptoms and preferences is an important step in returning your smile to optimum health.